Westbrook College Alumni Authors
Elizabeth A. De Wolfe
Westbrook College HA '04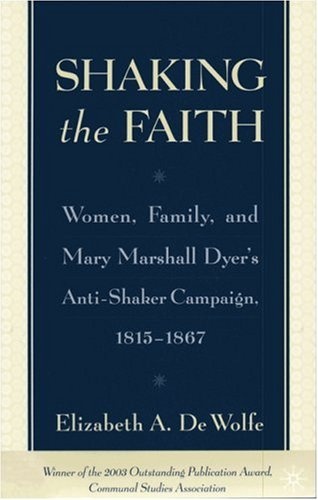 Elizabeth A. De Wolfe, of Alfred, Maine, associate professor of history and American studies, is a 2004 Westbrook College honorary alumna. She earned her Ph.D. in American and New England studies from Boston University (1996), an M.A. in anthropology from the State University of New York/Albany (1985) and a B.A. in social science from Colgate University (1983).
De Wolfe is chair of UNE's History Department and also co-chair of UNE's Women's Studies Program. She teaches courses in women's history, communal societies, and American culture. She received the Mary Rines Thompson Award for Teaching Excellence in 1997. In 2004, De Wolfe received UNE's highest honor, the Kenneally Cup, in recognition of her excellence in teaching and service to the University.
Dr. De Wolfe is the author of Shaking the Faith: Women, Family, and Mary Marshall Dyer's Anti-Shaker Campaign, 1815-1867 (2002), which was awarded the Communal Studies Association's "Outstanding Book Award" for 2003. Shaking the Faith is a scholarly book with a powerfully dramatic narrative about one woman's 50-year battle to destroy the Shakers. De Wolfe is also co-editor of Such News of the Land: U.S. Women Nature Writers (2001).
Winner of the 2004 Fairfield Award for research in Saco history, De Wolfe also wrote The Murder of Mary Bean and Other Stories (2007), telling the story of a Saco Island factory girl who was murdered in 1850. Her research on the murder has been featured on Maine Public Radio, and in the Portland Press Herald, the Journal Tribune of Biddeford, and the Biddeford-Saco-Old Orchard Beach Courier.
Joni G. McNutt
Westbrook College '78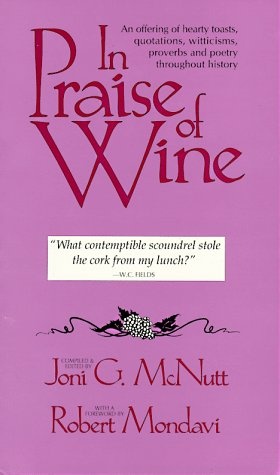 Joni G. McNutt is a 1978 graduate of Westbrook College and author of In Praise of Wine: an offering of hearty toasts, quotations, witticisms, proverbs and poetry throughout history.
Following the publication of her book in 1993, a critic wrote, This lively collection spans from Egyptian hieroglyphics to modern times with such diverse notables as Homer, Oscar Wilde, Madam Pompadour, Louis Pasteur, Isak Dinesen, W.C. Fields and Art Buchwald sharing their insight about wines, with words ranging from the sublime to the ridiculous. Delightful and entertaining, In Praise of Wine embraces not only the joys of wine, but the joys of life.
In 1994 McNutt was the featured speaker at an alumni wine-tasting reception at UNE. Guests sampled various wines and hors d'oeuvres, and learned interesting tidbits about wine. Proceeds from the copies of the book sold at this event benefited UNE's Library Acquisition Project.
A wine enthusiast, McNutt writes: Those who drink wine are healthy. Those who possess wine are wealthy. Those who praise wine are wise. She divides her time between Alaska and the coast of Maine.
Patricia Ann (Wyman) Daley
Westbrook College '75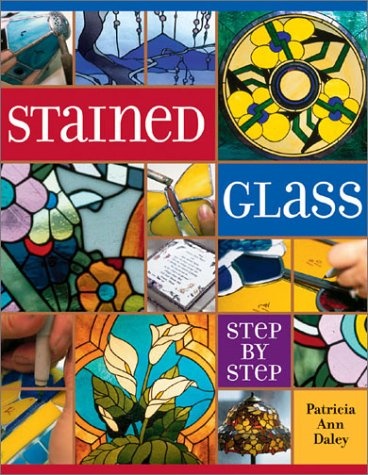 Pat (Wyman) Daley graduated from Westbrook College in 1975 with an associate's degree and has been crafting stained glass since 1976. She is the author of two books on stained glass and contributor to a third.
While a resident of Scarborough, Maine, Daley learned her craft from Seymour Isenberg's How to Work in Stained Glass. She is the contributor of several chapters and examples of her work to the 3rd edition of Isenberg's classic.
Daley's own self-teaching book, Stained Glass Step by Step, was published in 2003 in both the United States and Great Britain. She has also authored a pattern book titled Patterns by Pat – Four Seasons.
Daley now resides in Sarasota, Florida, and owns her own studio called Kaleidoscope Stained Glass.
Eleanor Noyes Johnson
Westbrook College HA '70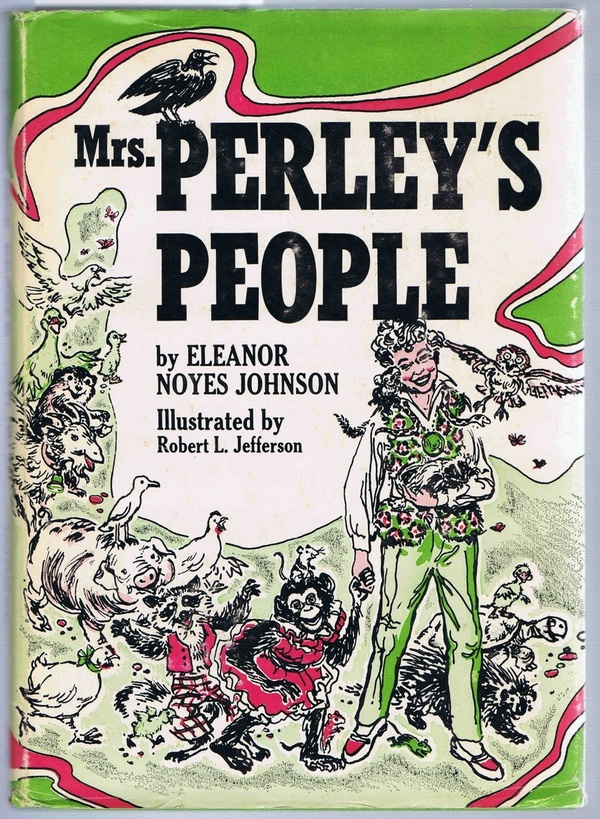 Eleanor Noyes Johnson is the author of eight juvenile books and a 1970 Westbrook College honorary alumna. A native of Newburyport, Massachusetts, and a graduate of the University of New Hampshire and New York University, Johnson taught at Stephens College in Missouri before coming to Westbrook Junior College in 1960 as a teacher of English and children's literature.
During her teaching career at Westbrook, which extended from 1960 to 1974, Johnson was a well-known Portland personality and owner of a charming Victorian home in the city's Western Promenade. Johnson was an avid traveler, receiving much of her inspiration for writing while traveling.
Johnson's books, all juvenile titles, are:
Mountaintop Summer (1959)

A story of a professor's family with lots of ideas and little money who make a deserted cabin in the Colorado mountains their summer home and a place for their father to recuperate

Buffington Castle (1962)

Armitage Hall (1965)

The story of a girl at boarding school, who spends too much time with a favorite horse

King Alfred the Great (1966)

A biography for young people on the life of the English King Alfred

Mrs. Perley's People (1970)

An amusing story of an eccentric woman, Helen Mewer Perley, who operates an unusual animal farm in Maine

Pirate, The Lighthouse Cat (1986)

Whistle Him In: The Story of a Maine Seal (1985)

and The Wishing Year (1997)

the story of a 10-year-old girl growing up in 1920s Newburyport, Massachusetts.
Joyce K. Bibber
Westbrook Junior College '56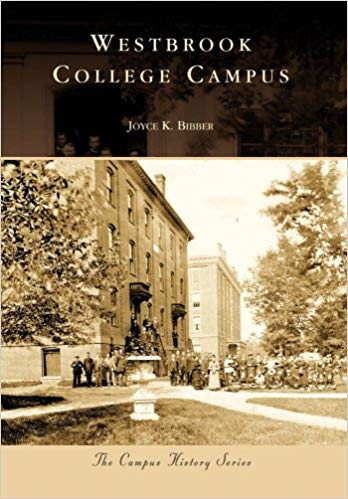 Joyce K. Bibber, professor, historian and writer, is a 1956 graduate of Westbrook Junior College and author of seven Maine books. She has her Ph.D. from Stanford University and was a member of the history department at the University of Southern Maine until her retirement in 2001. There she taught U.S. and Asian history.
Dr. Bibber served on the Maine Historic Preservation Commission for ten years, and is an active member of Greater Portland Landmarks and its Advisory Service. She will visit Portland area houses, analyze their architectural details and make recommendations for maintenance and restoration.
In addition to her books listed below, Dr. Bibber writes frequently for the Landmarks Observer and the Maine Historical Collection Quarterly. She is in demand as a lecturer, and well-known for her historian presentations. An avid gardener and traveler, Bibber lives in Gorham, Maine.
Bibber's books include the following:
What Do We Call It? A Guide to Maine Houses (1986);
A Home For Everyman: The Greek Revival and Maine Domestic Architecture (1988, 2000);
Brunswick and Topsham(1994); Bath and West Bath: Images of America series (1995);
Harpswell: Images of America series (1996);
Selected Maine Coast Postcards of George S. Graves: Postcard History series (1998);
University of Southern Maine: College History series (2001).
Joyce Butler
Westbrook Junior College '53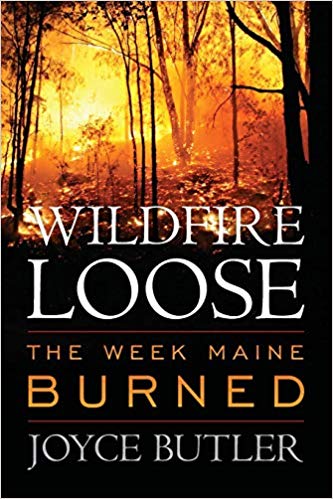 Joyce Butler, born in Portland, Maine, and a Kennebunk resident, is a historian, archivist/curator, and writer. She received her associate degree from Westbrook Junior College in 1953 and an A.B. from Boston University in 1955. She was the Kennebunkport Historical Society archivist from 1975 to 1979. Her next position, 1979-1995, was exhibit and manuscript curator at the Brick Store Museum, Kennebunk. More recently she curated exhibits at the Center for Maine History. In 1990 Butler was appointed the town historian for Kennebunk. She is also well-known in the historical society/museum world as a lecturer and consultant on manuscript preservation and cataloging.
Butler was a recipient of the Westbrook College Tower Award for Alumni Achievement in 1985.
Butler's most widely known book is Wildfire Loose, originally published in 1978 and reissued in 1987 and 1997. A well-documented account of the 1947 Maine wildfire, Wildfire Loose is included in The Mirror of Maine: One Hundred Distinguished Books That Reveal the History of the State and the Life of Its People
Butler's other books and exhibit catalogs include:
The South Congregational Church: An Architectural History (1973)
Pages From a Journal (1976)
Kennebunkport Scrapbook (1977)
Abbott Fuller Graves, 1839-1936 (1979)
The Kennebunks: A Watering Place, the First Fifty Years, 1870-1920 (1980)
Louis D. Norton, 1868-1940 (1982)
The Artists as Historian: Augustus W. Buhler, 1853-1920 (1983)
A Kennebunkport Album (1984)
The Duchess Who Lived in the Mansion (1986)
Spirits in the Wood (1997).
Marjorie Weinman Sharmat
Westbrook Junior College '48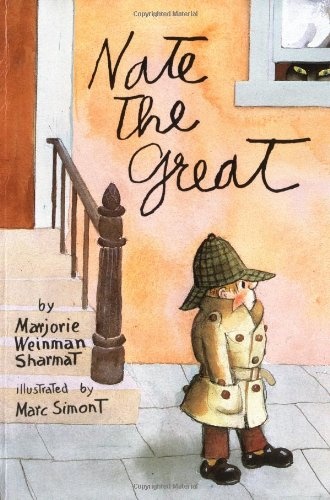 Marjorie Weinman Sharmat, a popular children's writer, was born in Portland, Maine, graduated from Deering High School, and graduated from Westbrook Junior College with a major in merchandising in 1948. She has 110 published books to her credit and is the recipient of numerous awards, including the 1975 Westbrook College Tower Award for Alumnae Achievement.
During the 1960s and 1970s, Sharmat wrote only for children, producing many picture books, readers and novels. Her own children provided her with inspiration. Her first published book, Rex, the story of a runaway boy who pretends to be an elderly neighbor's dog, came out of the facts that her son Craig often visited older neighbors and her son Andrew pretended to be a dog.
In 1975, the Sharmat family moved across the country from New York City to Arizona. Comments by children from the east and west about what they thought might be waiting for them on the other side of the country helped her to write Gila Monsters Meet You at the Airport, which became a feature film in the "Reading Rainbow" series starring LeVar Burton, on PBS-TV.
In 1982, Sharmat started writing novels for young adults that were described as "intelligent and witty" by one critic.
Critics and readers of all ages have enjoyed Sharmat's many books. In a career spanning four decades, she has penned picture books, beginning readers, and chapter books, as well as novels for young adults. A reviewer called her Nate the Great series "the finest mysteries we know of for beginning readers," adding that they were also suitable for reading aloud to children as young as three years old. Sharmat believes the humor in her books is an essential ingredient. She wrote, "I like to write funny books because I think that life is basically a serious business and needs a humorous counterbalance."
Audrey White Beyer
Westbrook Junior College '37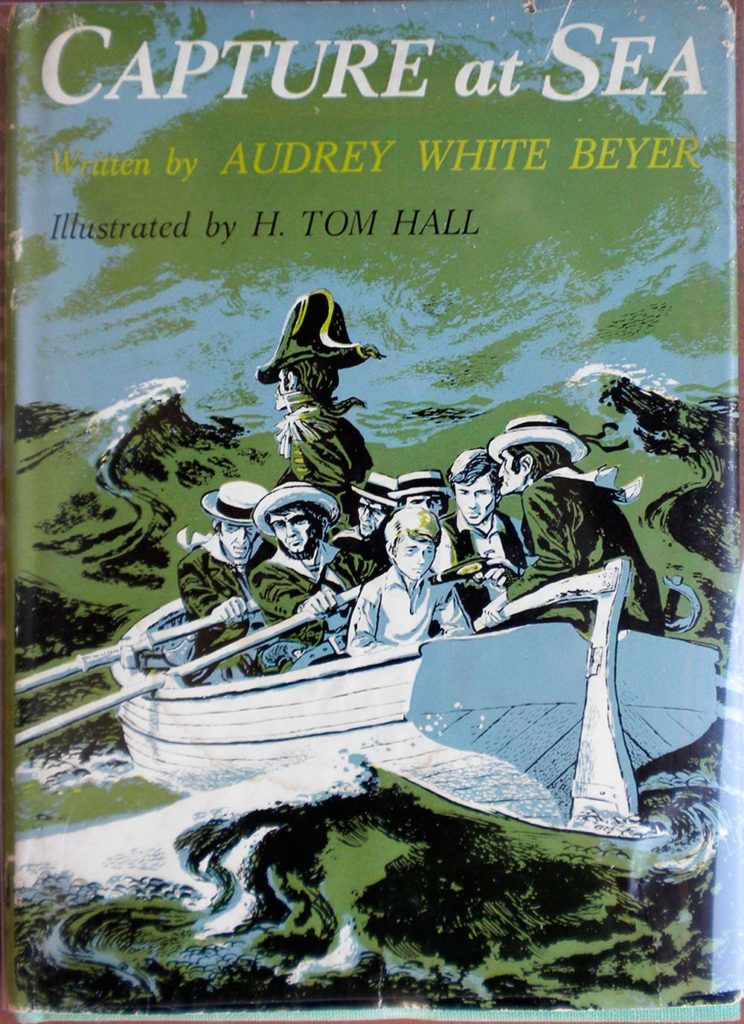 Audrey White Beyer (1916-1985) was born in Portland and lived in Cape Elizabeth. She graduated from Westbrook Junior College in 1937 and received her A.B. in 1939 from the University of Maine. She was a teacher of English at Westbrook Junior College from 1939 to 1943; from 1956 until 1974 she taught English at various academies in Massachusetts.
Beyer received the Jack and Jill Award in 1958. In 1960, Westbrook gave her its first Tower Award for Alumnae Achievement.
Audrey White Beyer wrote historical novels for young adults. Capture At Sea (1959) deals with two Yankee boys, impressed into British naval service during the War of 1812. It won the Boston Globe-Horn Book Award.
The Sapphire Pendant takes place in 1803. A sixteen-year-old orphan, Elizabeth Montgomery, travels from Portsmouth, England to France, in disguise as a sailor. The story involved espionage during the Napoleonic Wars and Elizabeth's relationship with her guardian, Paul. "Equal parts of romance, intrigue, and mystery make up this teen-age novel," wrote Elizabeth Hodges in the New York Times Book Review.
The novel Katharine Leslie, deals with a sixteen-year-old governess falsely incarcerated in Newgate Prison. Through the help of a young doctor, she escapes to America and goes to work as a tutor for a Tory family, only to find herself in the middle of the Revolutionary War. "The good writing, interesting historical background, and complexities of the character make this romantic story unusually convincing," wrote a Horn Book contributor.
In Dark Venture, Beyer took on slavery in the late eighteenth century. The hero, Demba is a twelve-year-old from West Africa, who wanders away from home. Another tribe captures him, and sells him to a slaver."
Gertrude Stevens Leavitt
Westbrook Seminary 1885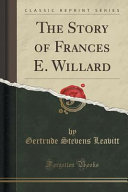 Gertrude Mary Stevens Leavitt (1867-1926) was the daughter of temperance reformer Lillian M. N. Ames Stevens. Like her mother, she attended Westbrook Seminary in her youth and graduated with the degree of Laureate of Arts. Gertrude Stevens married William J. Leavitt.
Leavitt authored two young adult books: The Story of Frances E. Willard (1905) published in Portland by L.H. Nelson Company; and Lillian M.N. Stevens, a life sketch (1921).
Lillian M. N. Ames Stevens
Westbrook Seminary (1859)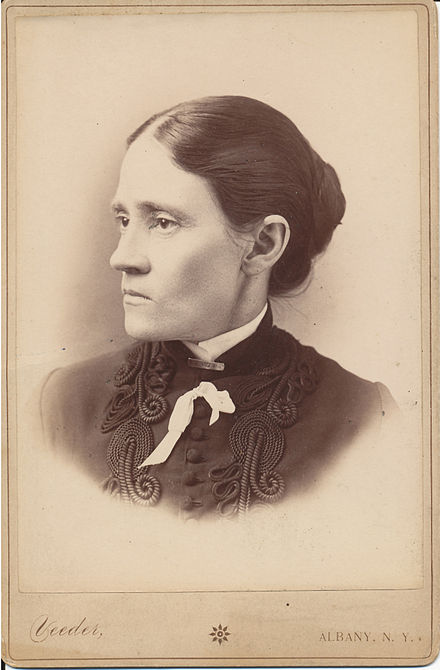 Lillian Marion Norton Ames Stevens (1844-1914), temperance reformer, was born in Dover, Maine, where her father was a teacher. After attending the local Foxcroft Academy and Westbrook Seminary near Portland, she taught school for several years. In October 1865, Lillian Ames married Michael T. Stevens, a grain and salt wholesaler, and moved to his family homestead in Stroudwater. They had one child, Gertrude Mary.
In 1878 Mrs. Stevens became president of the Maine Woman's Christian Temperance Union, a position she retained throughout her life. Becoming friendly with Neal Dow of Portland, the most prominent nineteenth-century prohibitionist, she helped him in his successful campaign of 1884 to bolster the ban on liquor by writing it into the Maine constitution.
Mrs. Stevens' most important work, however, came as a leader of the National Woman's Christian Temperance Union. In 1898 Mrs. Stevens became president of the W.C.T.U. and, five years later, also vice-president of the World's W.C.T.U.
In 1914 Lillian Stevens died at Portland of chronic nephritis; her ashes were buried in Portland's Stroudwater Cemetery.
What Lillian M. N. Stevens Said contains selections from addresses Stevens delivered before annual conventions of the National Woman's Christian Temperance Union 1899-1913.
Ellen Gould Harmon White
Westbrook Seminary (1839)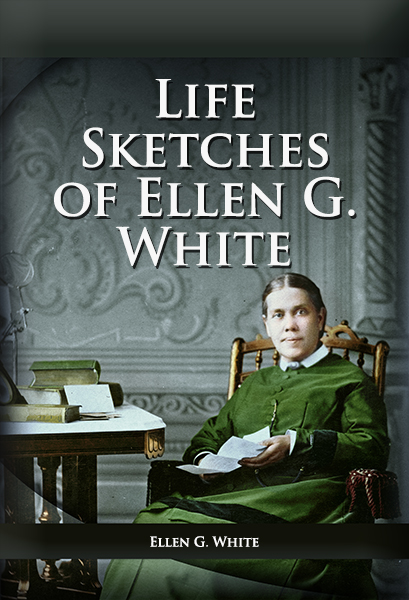 Ellen Gould Harmon White (1827-1915) was an American religious leader and co-founder of the Seventh-Day Adventist Church. Born in Gorham, Maine, and a resident of Portland, Ellen Harmon sustained a serious injury at the age of nine that left her facially disfigured and for some time unable to attend school. Her formal education ended in 1839, when she briefly attended Westbrook Seminary and Female College.
In December 1844 Harmon experienced the first of what she would later claim were some 2,000 visions. She began an itinerant ministry, bringing news of the future and Adventist messages of encouragement gained from her visions. In 1846 she married the Reverend James S. White. They traveled together through New England and gradually moved farther afield, spreading the Adventist faith.
After the Whites moved to Battle Creek, Michigan, in 1855, that city became the center of Adventist activity. In 1866 White helped establish the Western Health Reform Institute in Battle Creek; later, as the Battle Creek Sanitarium, it became famous for its work in the field of diet and health food and was the model for many other sanitariums. White traveled extensively in Europe and was a pioneer missionary to Australia.
White's enormous literary corpus includes 54 books, some of them in as many as 83 languages. The Maine Women Writers Collection includes 37 of her titles including Life Sketches of Ellen G. White.