NATIVE VOICES: Native Peoples' Concepts of Health and Illness and KIKEHTAHSUWIW — "It Heals"
March 6, 2017 - April 12, 2017
Biddeford Campus Art Gallery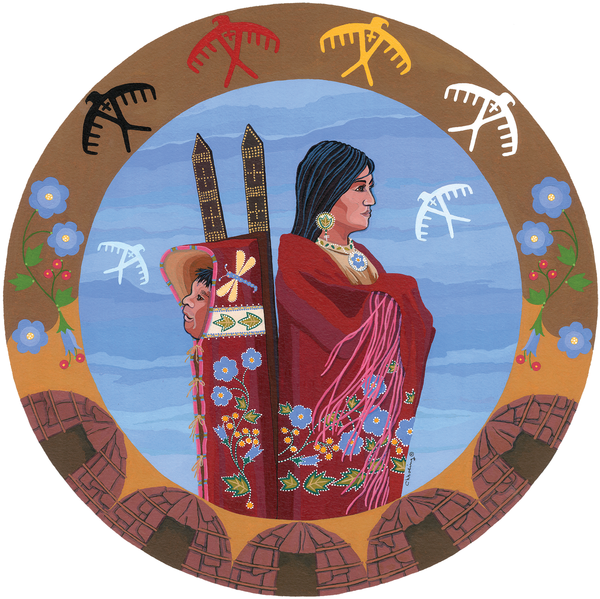 A new traveling exhibition, Native Voices: Native Peoples' Concepts of Health and Illness, examining concepts of health and medicine among contemporary American Indian, Alaska Native, and Native Hawaiian people, is showing now through April 12, 2017 in the UNE Art Gallery in the Ketchum Library on the UNE Biddeford Campus. This exhibition, produced by the National Library of Medicine, explores the connection between wellness, illness, and cultural life through a combination of interviews with Native people, artwork, objects and interactive media. The exhibition will be open to the public the Ketchum Library from 8 a.m. to 8 p.m. A free, public event presenting current views on treatment of Native and diverse populations will be held in the Ketchum Library art gallery on April 6 at 5:30 p.m. More information to come for that event.
Showing simultaneously in the Ketchum Library gallery is another traveling exhibition, Kikehtahsuwiw — "It Heals." Created by George Neptune, museum educator at the Abbe Museum in Bar Harbor, Maine, with photos by Thom Willey, It Heals is a story about several women of the Passamaquoddy Tribe who share a common goal — healing Native communities. This exhibit goes to the heart of health issues in Native communities and examines issues of culture, treatment and healing.
The University of New England sits within reach of many Native tribes in Maine and Canada. The University maintains an endowed program on Native issues called the Donna M. Loring Lecture. This year's program will also take place on April 6 in the Ketchum Library gallery and be a reading of Donna Loring's play "Mary and Molly," which explores issues of Native identity, Native history and the importance of keeping cultural traditions alive. Please call 221-4324 or email cgurley@une.edu for start time and other information.
The National Library of Medicine has a history of working with Native communities as part of the Library's commitment to make health information resources accessible to people no matter where they live or work. The Native Voices exhibition concept grew out of meetings with Native leaders in Alaska, Hawai`i and the Lower 48. "We hope that visitors in communities across the country will learn from the ideas, practices, and traditions shared here," says Betsy L. Humphreys, acting director of the National Library of Medicine.
"This exhibition honors the Native tradition of oral history and establishes a unique collection of information," says Donald A.B. Lindberg, MD, director emeritus of the National Library of Medicine. "We hope visitors will find Native Voices both educational and inspirational, and we hope Native people will view it with pride."