Abplanalp Library Hours & Directions
Hours for Visitors
We welcome visitors who are not UNE students, faculty, staff or affiliates between the hours of 8 a.m. and 5 p.m. all days we are open. Learn more about our services for visitors.
Directions
Street Address
Josephine S. Abplanalp '45 Library
716 Stevens Avenue
Portland, ME 04103
(207) 602-3000
Driving Directions
From intown Portland
Take I-295 to Forest Avenue North (Exit 6B). Follow Forest Avenue to the traffic light at Woodford Street. Bear left onto Woodford Street and follow it to the light at Stevens Avenue. Turn right onto Stevens Avenue and continue for about one mile to the campus, which will appear on your left.
From the Maine Turnpike (I-95)
Take Exit 48 (Westbrook). After the tollbooth, turn left at the traffic light onto Riverside Drive. Follow Riverside Drive about one-quarter of a mile to the intersection of Brighton Avenue (Route 25), and turn left onto Brighton. Follow Brighton about one and three-quarter miles to the intersection of Stevens Avenue (Route 9) and turn left. Continue on Stevens about one mile through three traffic lights. The campus will appear on your left just after you pass the traffic light at Walton Street.
From Campus
From Stevens Avenue, turn onto College Street (on left, coming from the South, on right from the North). College Street ends in a left/right fork — turn left to end up behind the library. The library main entrance is on the side of the building facing Alumni Hall; go around the building on either side to access.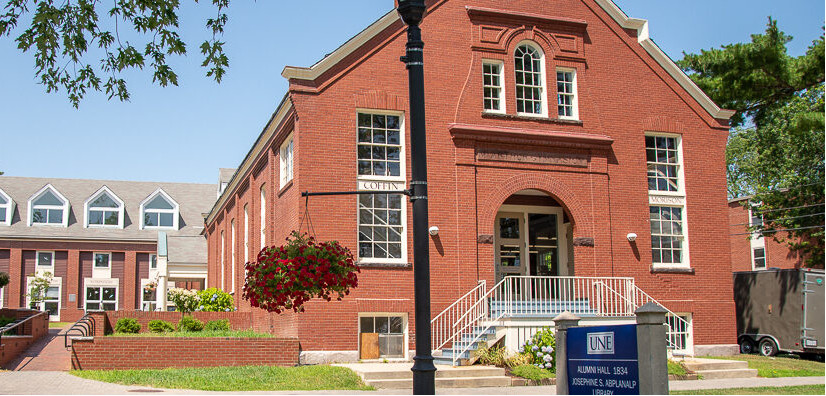 Parking
Parking on and around campus is extremely limited. Visitors should contact UNE's Security Office for a day parking pass.
Public Transportation
Greater Portland Metro Route 9 service stops on Stevens Avenue outside the Pharmacy Building. Route 2 service stops a short distance away on Forest Avenue. Learn more about transportation routes to and from campus.