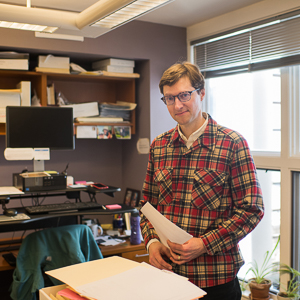 A poem written by Jefferson Navicky, archivist for UNE's Maine Women Writers Collection, was featured on Maine Public Radio's February 8 episode of "Poems from Here."
Navicky was inspired to write the poem, titled "The Rare Book Publisher Gives a Talk," in the fall of 2017 after taking a trip with other Maine Women Writers Collection staff members to Bowdoin College's Special Collections department for a lecture about rare books and the future of publishing.
Navicky is the author of a poetic novel, titled The Book of Transparencies, as well as a story collection, The Paper Coast.
"Poems from Here" is hosted by Maine Poet laureate Stuart Kestenbaum. It features poems about Maine and New England. A weekly series, "Poems from Here" is a project of Maine Public Radio and the Maine Writers and Publishers Alliance. It is supported by the Maine Arts Commission.