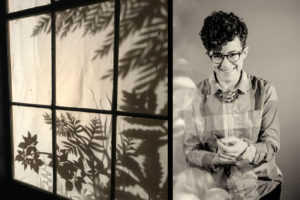 In April 2019, the Maine Women Writers Collection awarded its first Creative Fellowship to Devon Kelley-Yurdin, an interdisciplinary artist, educator and cultural organizer.
Devon's practice reflects how they want to interact with the world. Play, curiosity, accessibility, activism, and skill-building drive their work and life experiences. Devon's practice spans traditional media (printmaking, cut-paper, installation), design/illustration/art direction, event production, arts administration, and community organizing, and explores ideas of home, collectivity, celebration, and queerness.
Devon holds a B.F.A. in Communications Design & Cultural Studies from Pratt Institute and has spent the past 10-plus years working in the fields of community arts and cultural development, community-based education, and cooperative/collective/alternative models. They are a member of Pickwick Independent Press, a fine art community print shop, where they co-organize partnerships that bridge printmaking and social justice work. Devon also hosts a series of experimental living room performances and co-facilitates a bi-weekly movement class, all of which foster communication, bravery, and community care.
As the inaugural MWWC Creative Fellow, will be continuing their ongoing visual and written explorations of the relationship between queerness and nature, inspired and informed by the work, journals and ephemera of poet May Sarton.