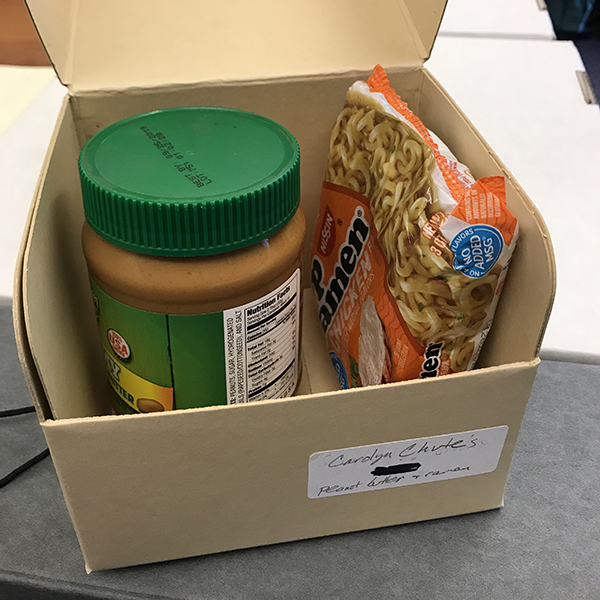 On September 21, 2019, MWWC archivist Jefferson Navicky attended the Metamorphosis literary festival in Portland for which Carolyn Chute was the headliner. Before reading from the galley of her next book, Recipe for a Revolution, Chute drew the audience's attention to the line of hydrogenated peanut butter and packages of ramen noodles that spread across the lip of the stage. She talked about how her daughter told Chute that "Maine has too many BMWs – Big Maine Women", and that Chute should not eat such food. However, living in rural poverty, Chute has been forced to rely on her local food pantry to supplement her diet; these jars of peanut butter and packets of ramen noodles are what the food pantry gives her. She does not want to eat them anymore, but she hates to waste food. Thus, Chute announced to the audience, she would like some young, thin people to please take some peanut butter, etc. after the reading. The audience laughed, but afterwards, no one took any peanut butter, which Chute had been carrying around with her all afternoon in a large canvas sack strapped to the back of her wheelchair.
Navicky began talking with Chute after the reading, telling her what an amazing reading she gave. Chute thanked the MWWC archivist, and then said, you look like a young, thin person; why don't you take some peanut butter? Navicky tried to refuse, then found himself unable to withstand her persuasiveness, and so relented and took a jar of peanut butter. Take two, Chute implored, they last forever! Navicky managed to hold his ground against a second jar of peanut butter, but did find himself taking a package of expired ramen noodles.
While MWWC is tempted to add the two objects to the Carolyn Chute collection, we have decided it is more in the Chute spirit to place them out in the break room of the library where we hope they will be snatched right up.