13th Annual Sculpture Garden Invitational
June 6, 2014 - October 31, 2014
Portland Campus Art Gallery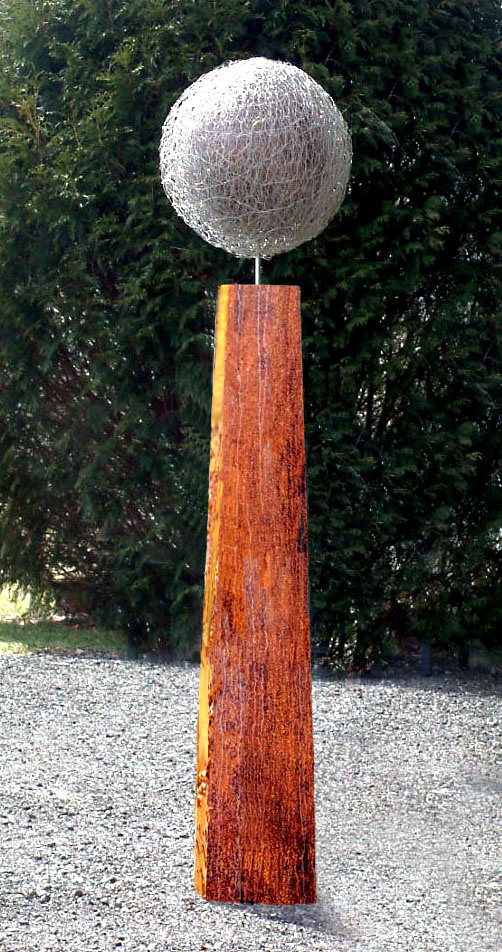 The 13th Annual Sculpture Garden Invitational at the University of New England is scheduled to open June 6, 2014 and run through October 31, 2014. An Opening Reception, free to the public, will be held on Friday, June 6 from 4-6 p.m.
Works of sculpture by 16 artists will be placed in the UNE Art Gallery's Vestibule and around its exterior including the permanent Labyrinth next to Evergreen Cemetery. In addition, several works will be placed in the University's historic quadrangle facing Stevens Avenue, inviting passersby to appreciate UNE's embrace of fine art. On its campus as well as in its classrooms.
The artists include Val Bertoia, John Bon Signore, J.T. Gibson, Lin Lisberger, Nancy Nevergole, Jean Noon, Judy O'Donnell, Elizabeth Ostrander, Daphne Pusifer, Constance Rush, Jesse Salisbury, Antoinette Schultze, Carolyn Treat, Jordan Smith, Andreas von Huene, Melita Westerlund, Carole Whelan, and John Wilkinson.
The original creator of the UNE Sculpture Garden Invitation was Grant Jacks, an important Portland-based collector/curator who recognized that the Gallery's reach and reputation would be enhanced by honoring some of the fine sculptors in our region whose works deserve to be seen in as many venues as possible. This exhibition is mounted in his honor.