Pain Chronicles: Photomicrographs and Personal Stories
September 14, 2017 - December 15, 2017
Biddeford Campus Art Gallery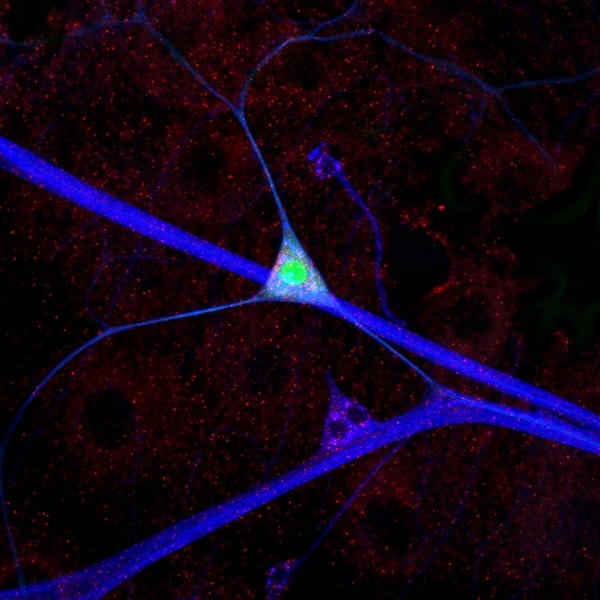 This unique exhibition features dramatic color images of cells of the nervous system, from fruit flies and mammals, which together illustrate the diverse nature of neurons involved in the development of chronic pain. These images, taken by UNE neuroscience investigators (students, staff, and faculty) using cutting edge microscopy demonstrate the simple and elegant beauty of cells that cause pain.
The exhibition also features self-narratives captured on film, and portraits of individuals with chronic pain. Together, these mediums provide unique insight into the lives and challenges faced by chronic pain patients.
Chronic pain is pain that outlasts an injury. It can occur without any clear cause, serves no useful purpose, and can be completely incapacitating. The simplicity and complexity of pain is explored through images of pain sensing neurons and through self-narratives and portraits of individuals with chronic pain. These stories, compiled by UNE students and staff, illustrates the complex and unique presentation of chronic pain, which is one reason why chronic pain is difficult to treat.
Through research, education, and community outreach, UNE's Center for Excellence in the Neurosciences aims to inspire creativity and collaboration among people who have a passion for understanding the complexities of the nervous system, and to use our knowledge to improve human health and quality of life.