The Art of the Comic
July 10, 2019 - October 6, 2019
Portland Campus Art Gallery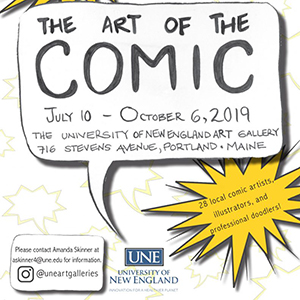 Featuring the work of 28 local comic and sequential artists, illustrators, and professional doodlers, "The Art of the Comic" explores the diversity of styles and subject matter that characterizes comics and related media. The exhibition also showcases the comic series The Pirate Ship, a collaboration between comic artists Bob Bergeron and UNE alum Katy Finch (M.S.W. '18) that runs regularly in the Portland monthly The Bollard. Drawing inspiration from Steinbeck's Cannery Row and independent "zines," The Pirate Ship follows the humorous stories, antics, and adventures of homeless men and women in Portland, Maine, and represents how the comic format can be a rich but accessible device for nuanced and meaningful storytelling.
Artists include Katy Finch, Bob Bergeron, Jeff Pert, Rick Parker, Michael Connor, Amanda Kahl, Michael Sloan, Melanie Kim, Mort Todd, George Danby, Ian Richardson, Lisa Trusiani, Turner Huston, Jamie Hogan, Eda French, Patrick Corrigan, Ben Williams, Sean Moran, Fulton Beal, Mary Anne Lloyd, Joe Rosshirt, Mike Lynch, RJ Matson, David Jacobson, John Klossner. Mili St. John, Michael Proia, Rowan Elliot and Jonathan Santos.
The UNE Art Gallery on the Portland campus is located at 716 Stevens Avenue, Portland, Maine 04103. The Gallery is located in the very back corner of campus. Please see map below.