Exhibits
The Art of the Comic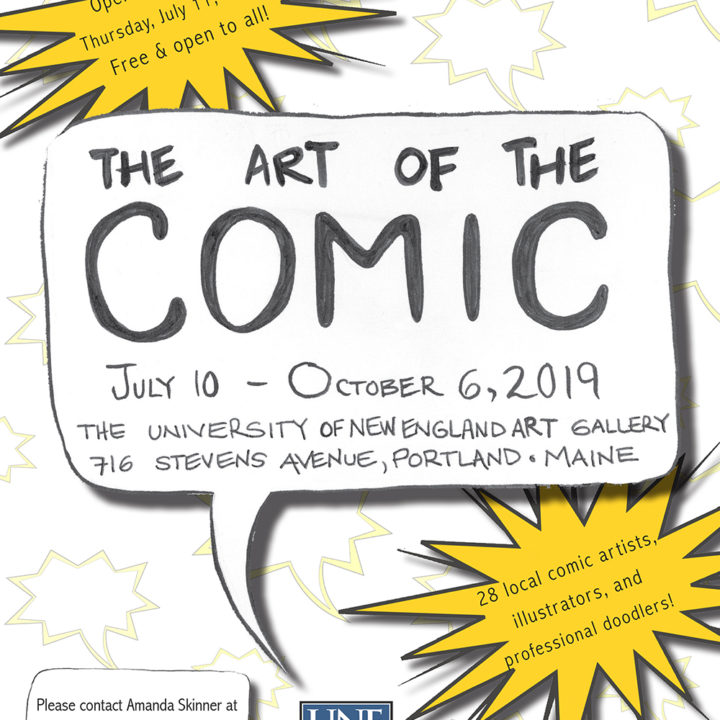 The Art of the Comic opening reception, July 11, 2019
Featuring the work of 28 local comic and sequential artists, illustrators, and professional doodlers, "The Art of the Comic" explores the diversity of styles and subject matter that characterizes comics and related media. The exhibition also showcases the comic series The Pirate Ship, a collaboration between comic artists Bob Bergeron and UNE alum Katy Finch (M.S.W. '18) that runs regularly in the Portland monthly The Bollard. Drawing inspiration from Steinbeck's Cannery Row and independent zines, The Pirate Ship follows the humorous stories, antics, and adventures of homeless men and women in Portland, Maine, and represents how the comic format can be a rich but accessible device for nuanced and meaningful storytelling.
Artists include Katy Finch, Bob Bergeron, Jeff Pert, Rick Parker, Michael Connor, Amanda Kahl, Michael Sloan, Melanie Kim, Mort Todd, George Danby, Ian Richardson, Lisa Trusiani, Turner Huston, Jamie Hogan, Eda French, Patrick Corrigan, Ben Williams, Sean Moran, Fulton Beal, Mary Anne Lloyd, Joe Rosshirt, Mike Lynch, RJ Matson, David Jacobson, John Klossner. Mili St. John, Michael Proia, Rowan Elliot and Jonathan Santos.
Upcoming Exhibits
The Complete City: Imagined
October 24, 2019–January 31, 2020
OPENING RECEPTION: OCTOBER 26, 2019, 5–7 PM
Since 2017, The Portland Society for Architecture has been using blank maps of Portland, Maine as a tool for citizen engagement. This project, called "Mapping Portland: The Complete City," provides the platform to collect ideas and inspiration about our city: what we love, what we don't, and what we can imagine. To date more than 350 maps have been collected and cataloged from high school students to senior citizens, new Mainers to salty trawlers, each telling a unique story directly tied to our shared place and community. They are honest, wildly imaginative, and extremely inspiring — and we continue to add more. With more public citywide mapping exercises, charrettes, and school activities planned the project has just begun.
In October 2019, the Portland Society of Architects will collaborate with the University of New England Art Gallery and the Center for Global Humanities to exhibit maps collected to date. The maps will be accompanied with entries for the Portland Society of Architects' inaugural design competition The Complete City: Imagined.
Previous Exhibits
Everyday Maine, Curated by Bruce Brown, with Steve Halpert

March 25–June 25, 2019

Partners in Art, Partners in Life: John David Ellis & Joan Beauregard

November 8, 2018–March 10, 2019

2018 Department of Arts Faculty Exhibition

August 1–October 21, 2018

2018 Annual Sculpture Garden Invitational, curated by Anne B. Zill and Carolyn Heasly

June 15–October 31, 2018

Inside the Cube: Looking Back Over 40 Years

April 20–July 15, 2018

Images of Children/Images of Youth: Period and Contemporary Photographs

January 11–April 1, 2018
September 28–December 20, 2017

Bandits & Heroes, Poets & Saints, Popular Art of the Northeast of Brazil

April 6–May 25, 2017

Land Sea Stone: Photographs by John Eide

Januray 18–April 2, 2017

Pastels Only, the 17th Annual International Juried Exhibition of the Pastel Painters of Maine

October 15, 2016–January 7, 2017

The Fifteenth Annual Sculpture Garden Invitational

June 10–October 31, 2016

Vision & Verse

July 6–October 2, 2016

Recent Acquisition to the UNE Photography Collection

Through October 2, 2016

The Art of Mildred G. Burrage

March 26–June 26, 2016

Wonder

February 17–March 13, 2016

A Tale of Three Cities: Period and Contemporary Photographs of Paris, New York and Portland

July 28–Oct 25, 2015

Portraits of the Artist

November 5, 2015–February 7, 2016
April 21–July 19, 2015
January 20–April 12, 2015
February 3–April 12, 2015
October 9, 2014–January 15, 2015
June 6–October 31, 2014
June 26–September 28, 2014
February 5–23, 2014
November 6, 2013–January 26, 2014
July 31–October 27, 2013
June 7–October 31, 2013
May 22–July 21, 2013
March 12–May 12, 2013
January 2–March 3, 2013
October 12–December 16, 2012
June 8–October 31, 2012
June 26–September 30, 2012
March 15–June 16, 2012
November 11, 2011–February 12, 2012

Children's Book Illustrators

July 27–October 30, 2011

Critters: A Show of Paintings and Sculpture Curated by Nancy Davidson

April 12–July 20, 2011

The Feathered Hand: Installation, Drawings, Prints by Alison Derby Hildreth

January 5–April 3, 2011

The Architecture of Environmental Landscapes, Within & Without

September 20–December 19, 2010

The Ninth Annual Sculpture Garden Invitational

June 18–October 31, 2010

The Artful Art of Drawing

June 18–September 12, 2010

Celebrating Women

March 8–June 13, 2010

Out of the Studio: The UNE Faculty Exhibition of 2010

February 9–28, 2010

Going Forward, Looking Back: Practicing Historic Photographic Processes in the 21st Century

November 17, 2009–January 31, 2010

Selections from the Permanent Collection

September 9–November 8, 2009

Eighth Annual Sculpture Garden Invitational

June 5–October 31, 2009

Photography in Maine: New Work

April 7–June 7, 2009

The Freedom Place Collection

January 16–March 15, 2009

Alice Spencer Fabricating Time: Paintings and Collected Textiles

November 13, 2008–January 11, 2009

From Observation to Illustration

September 13–November 9, 2008

Holga: 53 Photographs

September 13–November 9, 2008

The Seventh Annual Sculpture Invitational

June 6–October 31, 2008

William Manning: From Here to Eternitime

July 10–September 7, 2008

The Art of the Message: Posters New and Old

May 6–July 6, 2008

UNE Faculty Art Exhibition

April 8–30, 2008

Wall Envy: A Passion for Collecting

February 5–March 30, 2008

Picturing Portland: A Century of Change

December 6, 2007–February 2, 2008

Photographs of Abelardo Morell

November 30, 2007–January 27, 2008

Picturing Portland: A Century of Change

September 25–November 25, 2007

A Season under the Sun: Photographs from the Maxwell's Farm

October 4–November 25, 2007

Faces of the Mind

September 25–November 25, 2007

On Island: Women Artists of Monhegan

July 26–September 23, 2007

Cuba Hearts and Minds Past and Present

May 21–July 22, 2007

Annual Faculty Art Exhibition

April 27–May 13, 2007

Marriage of True Minds: The Work of Couples

February 14–April 22, 2007

Americans Who Tell the Truth: by Robert Shetterly

November 29, 2006–February 4, 2007

John Muench: A Retrospective

September 19–November 19, 2006

5th Annual Sculpture Garden Invitational

June 16–October 31, 2006

In Black and White and Color: Photographs by Denise Froehlich and Murad Sayen

May 4–July 2, 2006

Studio Connections: Artists Supporting MPBN

April 2–30, 2006

Student/Faculty Exhibition

March 9–26, 2006

The Holga Show

January 26–March 5, 2006

Maine Women: Living on the Land: Photographs by Lauren Shaw

December 5, 2005–January 22, 2006

Extreme Nature: Images from the World's Edge

October 5–November 27, 2005

A Celebration of the Artists of Southern Maine

July 29–September 26, 2005