Hours & Directions
Please note that the Portland Campus Gallery is open limited hours until further notice. See our planned upcoming exhibits.
Hours
Next Week

Sunday
May 22
Monday
May 23
Tuesday
May 24
Wednesday
May 25
Thursday
May 26
Friday
May 27
Saturday
May 28
Art Gallery
12PM – 5PM
Closed
Closed
Closed
12PM – 5PM
12PM – 5PM
12PM – 5PM
Location
The UNE Art Gallery is on the UNE Portland Campus, behind the Josephine S. Abplanalp '45 Library.
Address
UNE Art Gallery
716 Stevens Avenue
Portland, Maine 04103
Directions
Driving directions to the Portland Campus
FROM CAMPUS
The Art Gallery is the white cube-shaped building located behind the Abplanalp Library.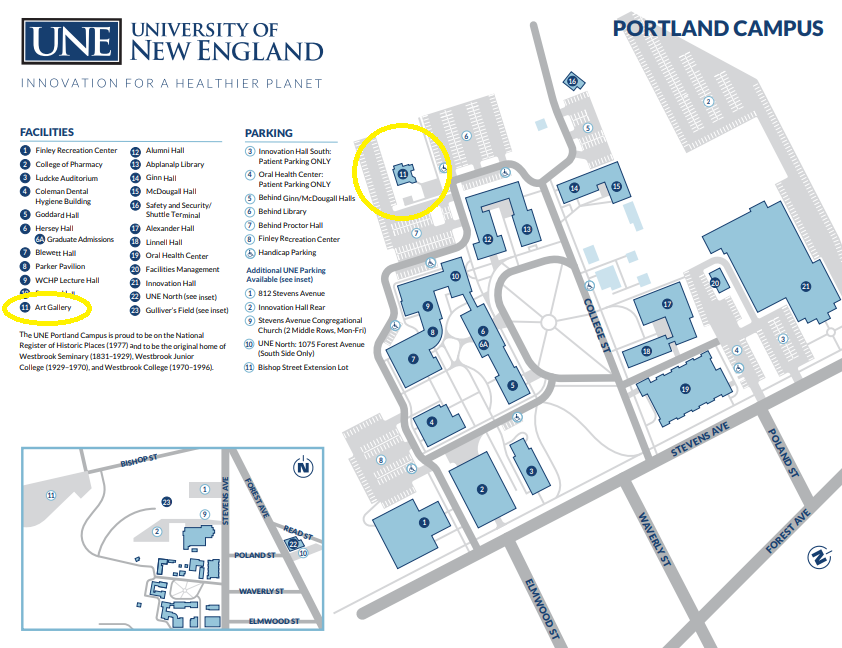 PARKING
Contact the Office of Safety and Security for information about parking on campus.