Effective Searching
Find the resources you need in research databases and other library resources with an effective search strategy. Make effective use of advanced search tools to perform targeted, accurate searches and get the results you want.
Find the right search terms
Most research databases use specific words to refer to concepts or subject matter; you will get the most accurate results if your search uses these terms. Find the preferred terms using the databases' thesaurus. The thesaurus will also show a subject hierarchy with broader or narrower terms related to your subject. The thesaurus can usually be found under Thesaurus, Subject Terms, or Subject Headings on the search page.
EBSCO Subject Terms video tutorial

If you are searching for Books & Videos use subject terms from the Library of Congress or the National Library of Medicine.
Keyword Searching
A keyword search matches your terms to titles, abstracts or summaries, or sometimes full text. While keyword searching will produce a large number of results quickly, it is not very precise. You may see results which are not relevant because your keyword is overly broad or also used in another discipline or context. Filters can limit keyword search results by date, subject, type and more.
Find Keyword searches in the general search, books & videos, some research databases.
Advanced Searching
Use these techniques to refine your searches and return precise results.
Quotation marks
Use quotation marks around terms you would like to keep together:
"Asian long-horned beetle" will return results for this invasive species and not include Asian countries, long-horned cattle, or other types of beetles.
Wildcards
Asterisk
Use an asterisk to return variations of a term:
Environment* will return results for environment, environmental, environmentalism, environmentally and so on.
Question Mark
Use question mark in place of any letter in a word to omit that character from a search:
A search for Wom?n will return Women, Woman, and Womyn.
Boolean Operators
Boolean Operators give you greater control over your search results. Boolean operators are terms which direct the database to combine the search terms you enter in specific ways.
AND
Limits results to those which contain both search terms:
A search for diabetes AND adolescents will limit the search to diabetes in adolescents and exclude information on diabetes in other populations or other topics affecting adolescents.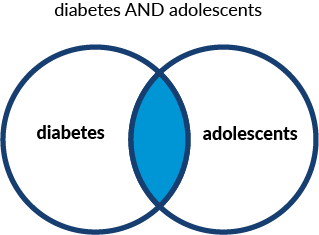 OR
Results will match either of the terms you enter:
A search for Samuel Clemens OR Mark Twain will return results for both this author and his famous pseudonym.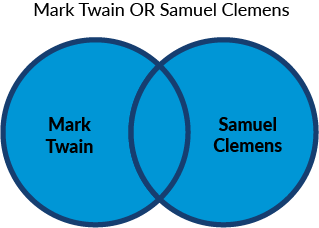 NOT
Results which match your first term, while excluding the second term:
A search for Blue Jays NOT baseball will return results for birds and not the Toronto baseball team.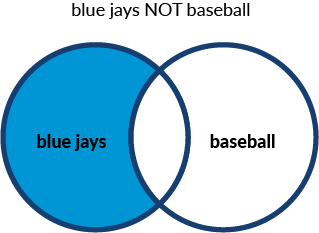 Combining Operators
Use parentheses to combine Boolean operators in a search for very precise results:
A search for (Ocean Currents AND Climate) NOT Change will return results about ocean currents and climate but exclude results about climate change or changes in ocean temperature.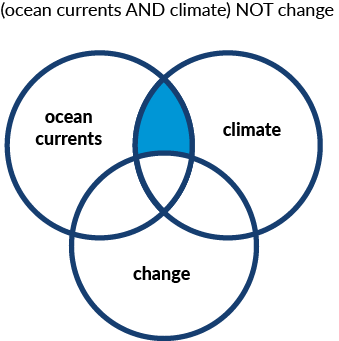 Combining AND with OR is useful when there are multiple terms for a topic:
A search for (aquatic therapy OR hydrotherapy) AND Stroke will return results using either of the therapy terms.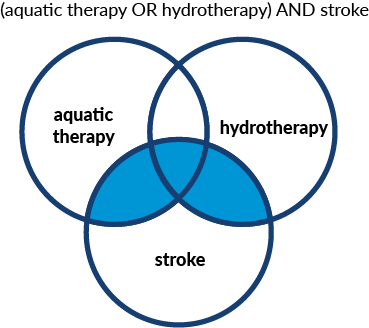 Searching Outside the Library
We always suggest that you start your search at the library, where you will more easily find accurate, reliable, and accessible information and have access to our paid subscriptions. However, Google's help pages have tips for refining your searches, and on performing an advanced search to improve the accuracy of your internet searching. Be sure you carefully evaluate sources you find online and can steer clear of disinformation and fake news.
Questions & Help
If you have questions on this, or another, topic, contact a librarian for help!