Advocacy & Tea
November 10, 2022
3:30 pm - 4:30 pm
Ketchum Library Art Gallery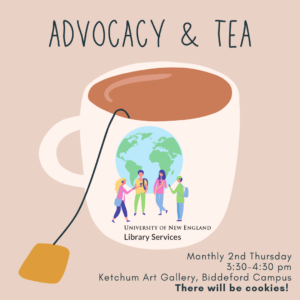 Want to make a positive impact on the world but aren't sure where to start? Join us for an exploration of contemporary regional issues through an intersectional lens hosted by UNE Librarians Cathleen Miller and Sonya Durney. We will build skills, confidence, and community together.
No pre-work, just drop in!

Join us the 2nd Thursday of every month from 3-4 p.m. in the Ketchum Art Gallery in the Biddeford Campus Library. First meeting is September 8.
There will be tea and cookies!