Advocacy & Tea
September 8, 2022
3:00 pm - 4:00 pm
Ketchum Library Art Gallery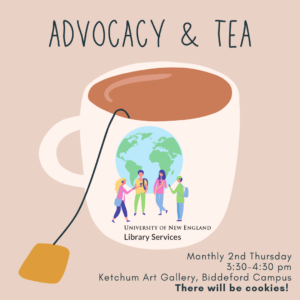 Wish you could join a book club but don't have time to read the books? Join us for an article/video club on issues of Diversity, Equity and Inclusion hosted by UNE Librarians Cathleen Miller and Sonya Durney.
Join us the 2nd Thursday of every month from 3-4 p.m. in the Ketchum Art Gallery in the Biddeford Campus Library. First meeting is September 8.
There will be tea and cookies!